This past Thursday, April 21, I headed down to San Antonio to attend the Friday Night Lights Red Carpet Premiere of Season Five, the final season of this amazing show. It was benefitting the charity Gridiron Heroes, in which they help football players who have injured their spinal cord while playing. Here is a link that has a little more information about the event and the charity:
Gridiron Heroes
19 of the show's cast members came to the premiere, including Kyle Chandler, an actor I have been following since the 1990's when I saw him in the movie Pure Country alongside George Strait. Here is my picture with him: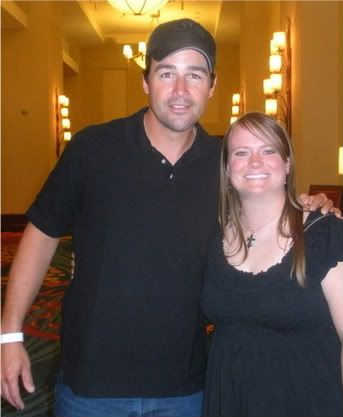 Me and Kyle Chandler "Coach Eric Taylor"
It was my second premiere to go to and sadly, the last, since this show is done with production. I have gotten to talk to Kyle Chandler several times over the years of being an extra for the show but the timing had always been off to get a picture with him. I told myself that I -had- to get a picture this time. When we first got there I went to pick up our tickets at will call. I noticed that Kyle had not arrived yet. His name had not been marked off of the list yet. So we waited in the foyer near where the cocktail party was taking place. About 45 minutes later, Kyle strolls in and walks right up to us. He remembered us and shook everyone's hands. He reached out to shake my hand and I said, "No, I'm getting a hug." I still don't know how I got the confidence to do that. Looking back now, I'm really shocked that I did. I was so glad that he seemed to remember us. Usually it's the fans walking up to the actors but in this situation, he saw us and came up to us. :)
Kyle stayed and chatted for a bit longer and had to go into the cocktail party. He was a little flustered (He mentioned he had been all over San Antonio and got lost. His GPS took him to the wrong hotel.) I didn't want to ask for a picture and fluster him more so he told us he'd see us later and walked away with Brad Leland. About 30 minutes later I see him walking down the hallway again, stopping to talk to several people along the way. I knew that was my chance to get the picture. My friend was a little reluctant but I just knew it would be my last chance of the night and I went for it. I waited patiently as he chatted with some other people and when he was done I walked up and said "Kyle, can I get a picture with you?" He smiled and said, "Of course you can!" almost like it was ridiculous that I even thought I had to ask. It was so sweet. He asked us if we were going to go inside to the cocktail party and we told him no, that our budget wouldn't allow. My friend took our picture and then I took a picture of them together. We chatted with him about the upcoming golf tournament for his and Brad Leland's charity called Beyond The Lights that will take place on May 13th in Bastrop, TX. He was glad to hear that we would be volunteering and said that he kind of wishes it will be bad weather like last year. He said they made more money due to everyone being cramped inside the club house. Either way, I'm definitely looking forward to helping out this charity as well. After our chat, he went back into the cocktail party and we found our way to the red carpet to get a good spot.
All of the actors came out and stopped to do interviews and several of them even stopped where we were and hugged us, gave autographs, and took pictures. I felt so humbled when a few of them thanked US for being extra's and giving our time to the show. Aaron Spivey-Sorrells gave us hugs and said we were family and that we should be giving him our autograph. It felt so good to be appreciated. Kathleen Griffith who plays Margaret Cafferty on FNL was SO nice. She thanked us for being extra's as well and when I told her I was from Lubbock she mentioned how her husband attended Texas Tech. I told her I did as well and at the end of the night her husband flashed me the gun's up so I did it back. :)
The premiere itself was fun too. It is so surreal to get to sit in the same room as the actors of the show and watch the first two episodes of the season with them. Amazing. Also, the production by Gridiron Heroes was a tear jerker. They presented a van for a recently handicapped football player. Not just the keys, they even had the van in the room with us. His mother gave a speech and said that all of us who walk need to stop being so lazy! We need to enjoy our legs! As having a grandfather who was a paraplegic, I understand completely. On campus, I refuse to take the bus. I WALK to my classes.
It was such a great experience... an experience of a lifetime. We all created some wonderful memories that night... one's I will never forget.
Here's a few more pics from that night:
Derek Phillips "Billy Riggins"
Jesse Plemons "Landry Clarke"
Matt Lauria "Luke Cafferty"
Madison Burge "Becky"
Me and Connie Britton "Tami Taylor"
<<Insert Caption Here>> He was talking to someone about the logo on his cap
This picture cracks me up for some reason....